You can't just throw this stuff in the trash!
It is now illegal in Pennsylvania to throw electronic waste in the trash.
Certain electronic items such as:
desktop computers | laptop computers | and computer peripherals such as: printers | keyboards | monitors | tablets like iPads and Kindles | and televisions with viewable |  screens larger than four inches.
can no longer be disposed of in state landfills.
According to the Pennsylvania Covered Device Recycling Act (CDRA), which went into effect on January 24th, 2013, all e-waste must now be recycled. If you've got big items or an entire network, getting them to the recycling center can prove to be a very difficult task.
Get started today with a simple phone call to 215-678-2040 or Fill the form:
Ready to get rid of your E-Waste?
A few clicks and the Electronic Waste is gone…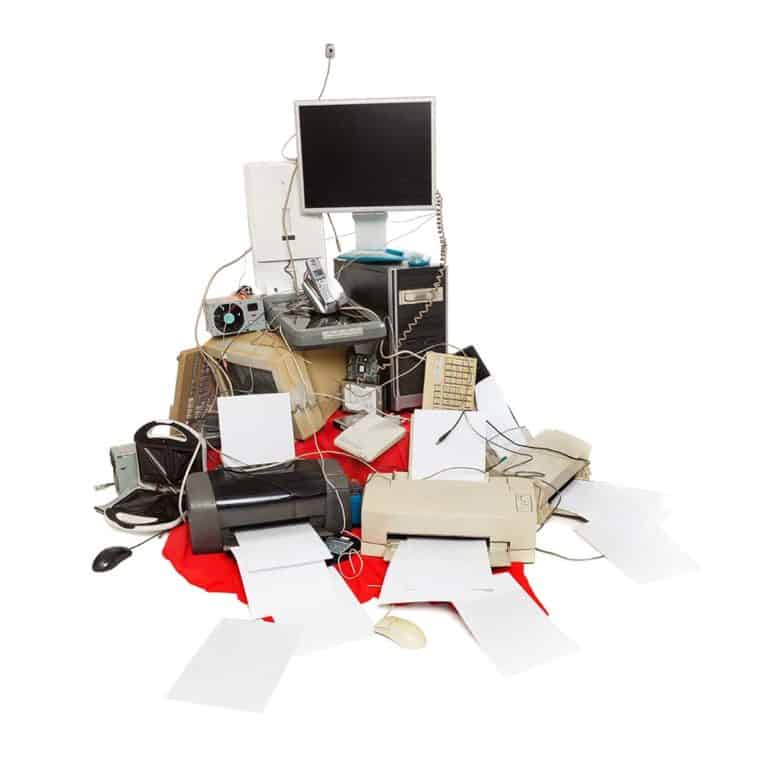 Most electronic devices are made with heavy metals like lead, cadmium, and mercury that are harmful to the environment. Most contain batteries which can leak into the soil and pollute our drinking water.
Now that we've given up much of our paper for electronic computing, we're recognizing the need to manage the debris from junk devices.
E-Waste Removal and Recycling in Philadelphia
EZ Clean Up will pick up, remove, and recycle your e-waste, electronics, and computers in Philadelphia, taking away your equipment that is too harmful to be thrown in landfills. Much of this material can be recycled.
If your equipment is still working, there are organizations around Philadelphia that can restore or refurbish old electronics. Many of these companies will pay cash for your discarded televisions, computers, and other office equipment. Such places will be our first stop for your items. As with all the material we haul away, if we can get any money for your devices, we'll credit your bill.
Since EZ Clean Up is a full-service junk removal and site clean-up contractor, we can't dedicate our resources to jobs that do not meet certain minimum requirements. We want to haul away and remove your e-waste, electronics, and computers for recycling in Philadelphia, but there must be a significant amount. 
To determine if you have enough junk, debris or material for our services, please contact us by calling or by clicking the button below for a quote.
We also rent dumpsters, but they are not available for electronic waste at this time unless the entire dumpster will be used for this sole purpose. Please discuss your job with us beforehand if you have electronic items you need removed. We will work with you to find the best solution for e-waste, electronics, and computer removal and recycling in Philadelphia.